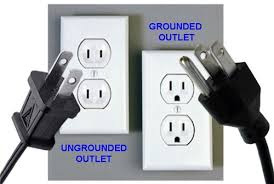 Home constructed prior to 1965 in the United States may still be equipped with the original style two pin ungrounded outlets. Ungrounded receptacles are less safe than modern grounded system three-pin receptacles. If current leaks to metal, unintended current paths in appliances, or the house systems, the energized component or appliance can increase the risk of electrical shock and fire. A grounded electrical system and receptacles provides increased protection against electric shocks, fire, and also decreases the risk of damage to appliances in case of a ground fault-current leaking outside the intended path.
The ungrounded two-pin receptacles are outdated by modern standards, and do not provide a path for static electricity for modern computerized components and most surge protectors will not work on two pin receptacles. Some homeowners use a two to three pin adaptor known as "cheater plug" as a quick alternative to installing grounded receptacles. However, this does not provide complete protection similar to properly installed grounded outlets. Another common layperson practice is replacing ungrounded  tow-pin receptacles with modern receptacles that have a third slot for the ground pin, but with no equipment grounding conductor connected to the new receptacle. This displays a false indicator of safety and does not provide adequate protection from the risk of electrical shocks and fire.
Upgrading the electrical system will not only bring it close to modern only bring it closer to modern safety standards but will of an older home. Some of the other measures you can take to properly ground your receptacles include the following:
Installing three-pin receptacles and completely re-wire the electrical system so that a path to the source via equipment grounding conductor is provided to the receptacle.
Installing GFCI's (ground-fault circuit interrupters) in the home. These three-pin devices can be installed in place of two pin receptacles a the receptacle itself of upstream. GFCI's will provide additional protection against electric shocks even if you do not re-wire your home. If not grounded, GFCI devices and the protected receptacles are required to be labeled "no equipment ground." These labels normally come with the devices. Note that ungrounded three-pin GFCI receptacles do not provide a path for static electricity or surge protectors. Be sure to utilize devices designed for two-wire ungrounded systems.
CAUTION!
Homeowners should never attempt to modify electrical wiring of the home themselves if there is any question regarding proper procedures or parts. Electrical work should only be done by qualified and licensed electricians, and in some cases local regulation requires it. Any attempt to "ground" the receptacles to a grounding electrode rod, the neutral conductor, or metallic water line can be dangerous. Most any electrical modification will require that you obtain a municipal permit from your local building and safely department, and have an inspection by the municipal inspector.