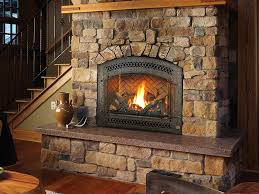 A fireplace can provide warmth to a room and can increase aesthetic appeal. Here are some tips to ensure that your fireplace remains in good working condition and keeps burning safety.
Hire a professional to sweep the chimney at least once a year if you use your fireplace often. Every 3-5 years if the unit is used occasionally will suffice.
Regularly inspect the cap located on the chimney. You can usually do this from the ground with binoculars. The cap keeps rain and animals out of the chimney. You should calla professional to replace the chimney cap if necessary.
Inspect the interior of the fireplace for build-up of soot and creosote. Soot and creosote accumulates inside the chimney due to the normal process of burning  wood. They are flammable and therefore should be swept clean as soon as they build up inside the fireplace. Also check the firebox for any cracks or deteriorated components and have them repaired quickly. A chimney sweep can generally provide any fireplace services other than re-building the entire unit.
Consider using dry hardwoods like oak, ash, and birth in the fireplace. These hardwoods burn long and hot and tend to produce less soot and creosote.
If your chimney is older and make of brick consider installing a stainless steel liner in the fireplace chimney  that has the ability to withstand high temperatures. A chimney sweep can assist with determining the proper type and material.
Consider installing heat resistant glass doors to help prevent heat loss from the house. You can also add a  blower that will help direct heat into the room instead of most of it going up the chimney.
Adding the glass door also helps prevent hot embers from entering the room. Keep the glass door clean using fireplace glass cleaner and a paper towel.
Regularly clean the interior of the fireplace of ash with a shovel then with a vacuum. Wear gloves and a dust mask when cleaning the fireplace.
Don't store fuel close to the fireplace where it might ignite. Keep children away from solid fuel fireplaces and gas appliances.