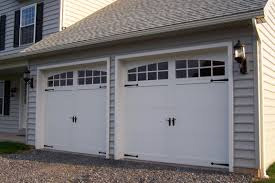 Garage vehicle doors are a large moving object and it is essential that they be well maintained and in good working condition. Regular maintenance of your garage doors not only extends the life of the garage door but also ensures reliable, quiet, and safe operation of the door. Many homeowners opt for regular inspection and maintenance of vehicle doors by a qualified professional due to their size and complexity. Here are some of the important steps that you can take to keep your garage doors in good working condition.
Annually, lubricate opener chain or screw with a minimal amount of white lithium grease. This will extend the life of both the opener and the chain. Be sure to check the owner's manual as some door opener chains do not require lubrication.
Use a penetrating lubricant or oil to coat the overhead torsion springs mounted above the roller tracks. Coating torsion springs with cleaner or lubricant helps prevent corrosion of the springs.
Consider replacing the weather seal of the garage door bottom and sides if it has become worn or brittle. Remove old seal with a flat pry bar and place a new one in its place. Note there are differing connection methods for door seals so be sure to purchase the correct seal for your door.
Visually inspect nylon rollers of the garage door for cracks, chips, or missing rollers. On steel rollers, wear and tear of the bearings would indicate whether it would need replacement, usually they will be out of camber if falling. You can purchase replacement rollers from most hardware stores. Installing the replacement rollers is not extremely difficult. Just remove and reinstall the roller bracket to install the new rollers, one at a time.
You can test the balance of your door by ensuring that it holds halfway open without assistance. Disengage the electric opener first if one exists. If the door is not balanced, it will result in wear and tear of the garage door and opener. You can contact a garage door professional to balance the garage door if it does not stay in position when half open, which could indicate a detective spring or other issue.
You might consider installing a lift handle on both sides of the garage door if sectional type. When installed, you are less likely to place your fingers between sections to lift the garage door and avoid pinching.